Your One Stop Shop Solution For Your Company In The Philippines
Our ultimate goal is to be straightforward and get to the point. We'll take the burden of your non-core business processes off your plate to help you stick to the things you're passionate about.
You won't have to deal with essential functions that create obstacles and hamper your company's growth anymore. With our flexible range of handy business solutions, you can run your company with less stress and focus on other key areas of your business.
Does your business registration take too much of your time? Do you need tax compliance assistance or bookkeeping services? DJKA Business Services Inc., is your one stop shop business solution for your needs. Explore our site to learn more about our services and contact us today to talk about it based on your needs.
A Team of Well-Rounded Specialists
DJKA Business Services comprises Certified Public Accountants and other professionals committed to pushing your business forward.
We'll be your accountant, bookkeeper, financial advisor, and tax consultant, eliminating the need to fill these roles internally. Drawing in on our collective experience and proficiency, we bring tremendous value to startups, small and medium-sized enterprises, and established companies.
We can handle the tax and financial side of your business, letting you devote more of your time and energy to activities closer to your heart.
Need help with your
tax filing this April?
Let's talk and make a customized solution for you.
Need help with your
tax filing this April?
Flexibility Meets Cost Efficiency
Our business solutions are available on demand. Whether you need our services for the whole year or some months, you can outsource your processes in your own terms.
We give you the freedom to pay for business solutions only when you need them. This way, you don't need to hire full-time professionals on staff, which helps trim your costs. You can enjoy considerable latitude in packaging our services based on your unique needs and get competitive rates.
WHAT THEY SAY ABOUT US
Sha Nacino
Author of Money and Me & Founder of Seminarphilippines.com
"I was having a hard time trying to understand taxes and the different forms I need to file in BIR every month for my newly-registered business. I did attend a seminar conducted by BIR but I didn't understand a thing. In less than an hour, Divine was able to provide clarity to my confusion. Thanks Divine! If you're looking for some who can help you with your business registration in the Philippines and if you need one of the best accountant in the Philippines, I highly recommend my friend Divine."
VAT or Non-VAT: What Should I Choose for my Business?
One of the important decisions you must make when you register your business with BIR is choosing the tax type that you want to be classified under. One of which is choosing whether you'll register as a Value-Added Tax (VAT) or a Non-VAT entity. As…
2022 Schedule of Filing of Annual FS and GIS
The Securities and Exchange Commission (SEC) has released the new guidelines in filing the 2021 Financial Statements and General Information Sheet of corporations. The commission issued SEC Memorandum Order No. 02, series of 2022, which set the new schedule for submitting the required year-end reports…
Newly-Registered Businesses and the Use of the New BIR Printed Receipt or Invoice (BPR/BPI)
Are you a newly BIR-registered business that's excited to make your first sale but you can't close it yet because your official receipts are not yet done printing or haven't been delivered? No need to worry anymore. Under RMC 28-2019, new businesses can immediately start…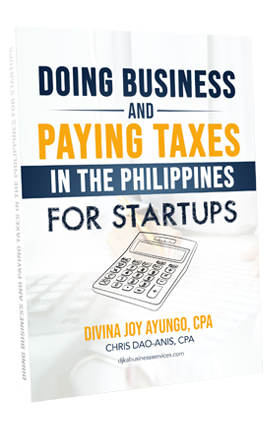 Enter your email address and click the button below to download this e-Book for Free!
Get your business running this with this step by step guide