Welcome to DJKA Accounting Services
Our ultimate goal is to get your thorny, yet critical, non-core business processes off your plate and help you stick to those you're passionate about.
You won't have to deal with essential functions that create obstacles and hamper your company's growth anymore. With our range of handy business solutions, you can run your company with less stress and focus on other key areas.
Do you need tax compliance assistance or bookkeeping services? DJKA Accounting Services is the partner you've been look for. Explore our site to learn more about our services and contact us today to talk about your needs.
A Team of Well-Rounded Specialists
DJKA Accounting Services comprises Certified Public Accountants and other professionals committed to pushing your business forward. We'll be your accountant, bookkeeper, financial advisor, and tax consultant, eliminating the need to fill these roles internally.
Drawing in on our collective experience and proficiency, we bring tremendous value to startups, small and medium-sized enterprises, and established companies.
We can handle the tax and financial side of your business, letting you devote more of your time and energy to activities closer to your heart.
Need help with your
tax filing this April?
Flexibility Meets Cost Efficiency
Our business solutions are available on demand. Whether you need our services for the whole year or some months, you can outsource your processes in your own terms.
We give you the freedom to pay for business solutions only when you need them. This way, you don't need to hire full-time professionals on staff, which helps trim your costs. You can enjoy considerable latitude in packaging our services based on your unique needs and get competitive rates.
TESTIMONIALS
Sha Nacino
Author of Money and Me & Founder of Seminarphilippines.com
"I was having a hard time trying to understand taxes and the different forms I need to file in BIR every month for my newly-registered business. I did attend a seminar conducted by BIR but I didn't understand a thing. In less than an hour, Divine was able to provide clarity to my confusion. Thanks Divine! If you're into business and you need an accountant, I highly recommend my friend Divine."
Tips on How to Start a Small Business
A small business always starts out as an idea which has to be transformed into action. This is where people start to get overwhelmed with all the things….
Accounting Tips for Small Businesses
It is essential for you to keep track of your revenues and expenses so that you know how your business is doing. Here are some accounting tips that can….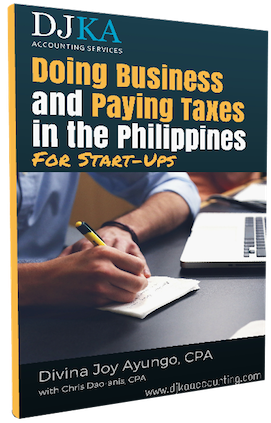 Enter your email address and click the button below to download this e-Book for Free!