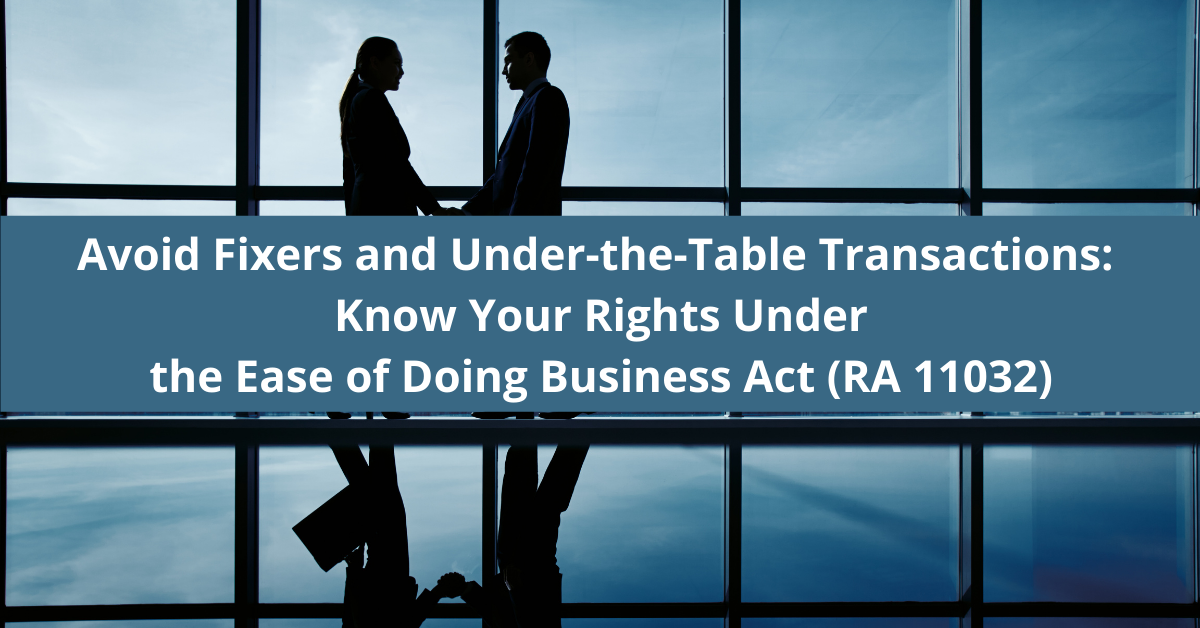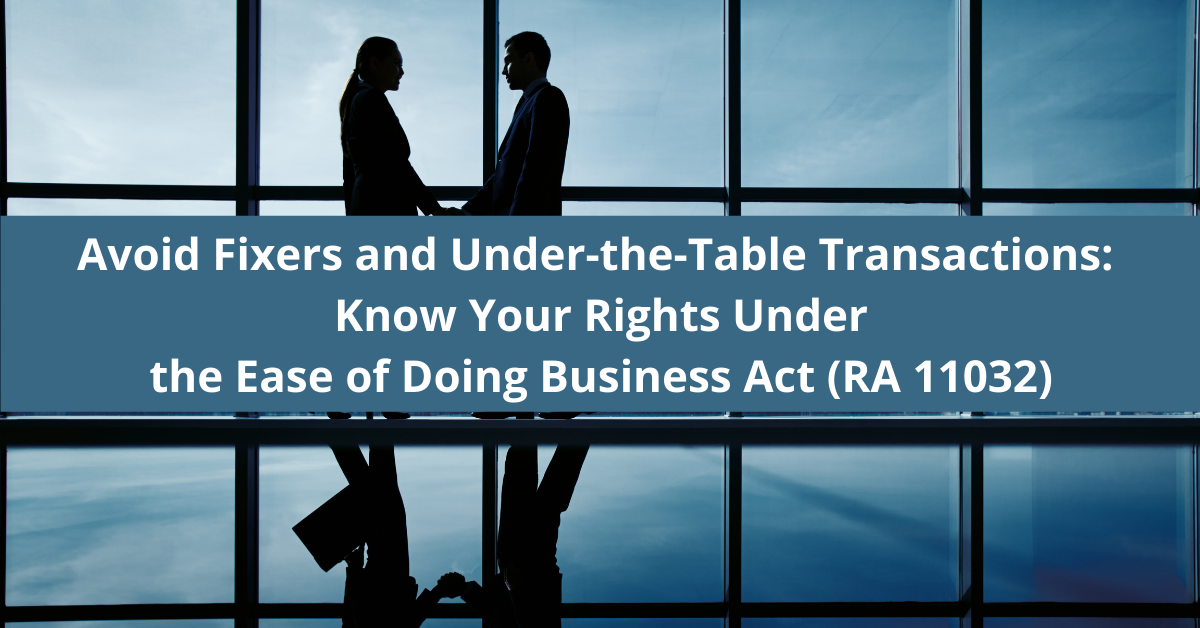 Avoid Fixers and Under-the-Table Transactions: Know Your Rights Under the Ease of Doing Business Act (RA 11032)
Did you experience applying for a business permit that took longer to finish? Or were you asked to submit some unnecessary documents?
With the Republic Act (R.A.) 11032, it is easier for businesses to get the necessary licenses and permits to start operating in the country.
R.A. 11032 aims to improve efficiency in government service, eliminate red tape and avoid corrupt bureaucratic practices.
This article will discuss the principal provisions of the new law and the citizens' rights when conducting a transaction with any government office.
Accessing of Government Services
All government employees of the offices or agencies shall accept written applications, requests, or documents submitted by the applicants.
Moreover, the concerned officer or employee shall act upon all applications and requests within the prescribed processing time, which is three working days for simple transactions, seven working days for complex transactions, and 20 days for a highly technical undertaking.
Automatic Approval or Renewal of Business License, Permit, Authorization, or Certification
 If a government agency fails to approve or disapprove an application or request within the standard service time, said application or request is deemed approved or renewed.
Provided that all documents have been submitted and the corresponding fees have been paid.
Citizen Charter
All government offices shall formulate service standards for all their services. Known as the Citizen Charter, these information billboards should be used as a guide for the public concerning the policies and procedures of government offices in handling business-related transactions.
Anti-Red Tape Authority (ARTA)
Directly under the Office of The President, ARTA is created to oversee the implementation of RA 11032 or the Ease of Doing Business Act in the Philippines.
The executive office should enforce the anti-red tape policies and eliminate corrupt administrative practices among government offices.
Transactions with the Bureau of Internal Revenue
The BIR has issued RMC 57-2020 as an offshoot of the Ease of Doing Business Act, which prescribes the updated policy and revised checklist of documentary requirements of business registration and other applications.
Moreover, the BIR circular emphasized that they will not process applications or requests with incomplete or deficient documents.
Remedies To Enforce Citizen's Rights
 If application or request to access government services is denied, the denial of application or request should be in writing;
If there is no action on your application or request within the prescribed turn-around-time, send a follow-up letter to the head of the agency or government office, citing the provision in Section 9 of RA 11032;
Always check the documentary requirements for each government transaction as found on the Citizen Charter. Do not give documents not required for your transaction.
You may send a complaint letter to ARTA in a worst-case scenario wherein a government agency cannot address your concern. ARTA will coordinate with the concerned agency and resolve the matter.
Knowing our rights under RA 11032 makes our transactions with any government agency fast and seamless. You don't need to ask for a fixer or pay under-the-table to get your transaction done on time.
———————-
Do you need more help and professional advice in registering your business? 
 We, at DJKA Business Services Inc., offer end-to-end solutions for your business registration needs. For inquiries and consultation, kindly email us at info@djkaaccounting.com