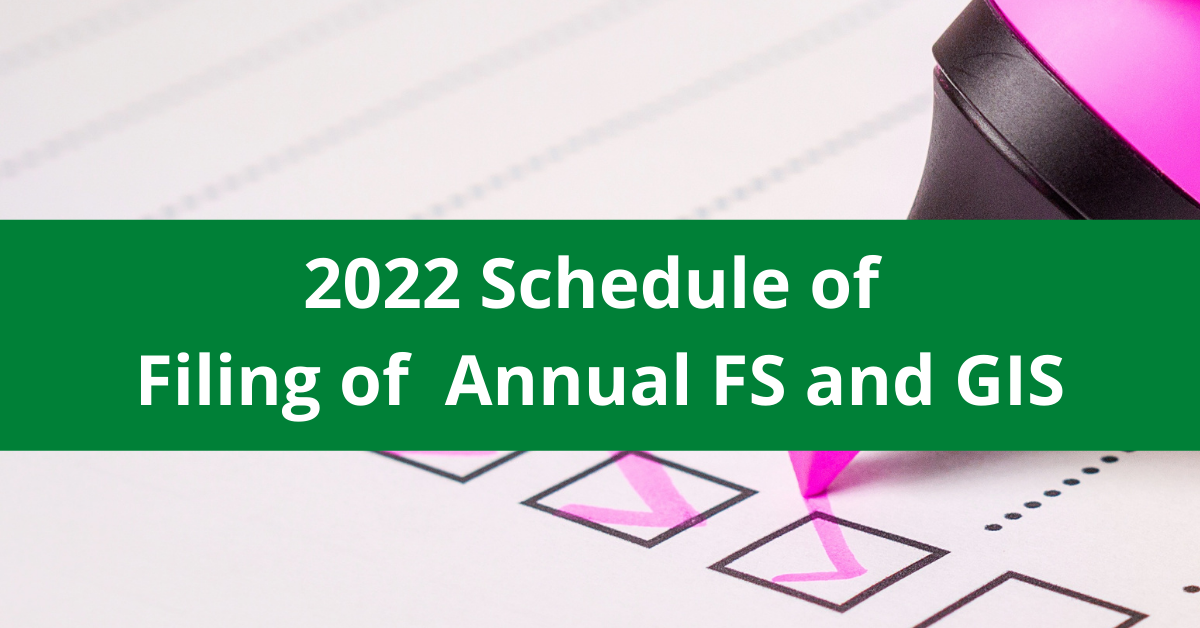 2022 Schedule of Filing of Annual FS and GIS
The Securities and Exchange Commission (SEC) has released the new guidelines in filing the 2021 Financial Statements and General Information Sheet of corporations.
The commission issued SEC Memorandum Order No. 02, series of 2022, which set the new schedule for submitting the required year-end reports through e-FAST, the SEC's online submission facility.
Audited Financial Statements (AFS)
1. All corporations whose fiscal year ends on December 31, 2021, should file their AFS based on their SEC Registration or License No., according to the following schedule:

However, corporations may submit their AFS on or before their respective deadlines.
2. Companies whose fiscal year-end on a date other than December 31, 2021, should file their audited company reports within 120 days from the end of their fiscal year.
3. Corporations with publicly-listed securities covered under Section 17.2 of Republic Act 8799 should submit the audited year-end report within 105 calendar days from the end of their fiscal year.
The commission will accept AFS until May 15, 2022, for this type of entity due to the current health situation.
4. Business entities whose AFS are audited by the Commission on Audit (COA) are exempted from the deadlines subject to submission of certain documents.
5. SEC will accept the late filing of AFS starting September 16, 2022, subject to payment of penalties.
6. Corporations whose AFS are not following the Revised SRC Rule 68 are required to pay penalties.
7. Enterprises that do not meet the required threshold for an AFS as provided in the Revised SRC Rule 68 may submit their year-end financial statements with a duly notarized Treasurer's Certification only, instead of the AFS.
General Information Sheet (GIS)
Business entities must file the GIS within 30 calendar days from:
Stock Corporations – the actual date of the annual stockholders' meeting
Non-stock Corporations – the actual date of year-end general members' meeting
Foreign Corporations – anniversary date of SEC License issuance
Online Reporting
Based on the SEC Number coding schedule, all corporations must file their annual financial reports online through eFAST. Moreover, the commission will no longer accept the submission of hard copies of the documents over the counter or through mail/courier via SENS.
After submitting the documentary requirements, company representatives authorized to use eFAST should complete their enrollment until March 31, 2022.
Filers should submit scanned, or digital copies of the manually or digitally signed reports. The company's authorized signatory ensures the integrity and authenticity of the e-signature.
Do you need help with your SEC compliances? DJKA Business Services can assist you. Just email us at info@djkaaccounting.com for a quote.